REBOOT WORKSHOP – WK I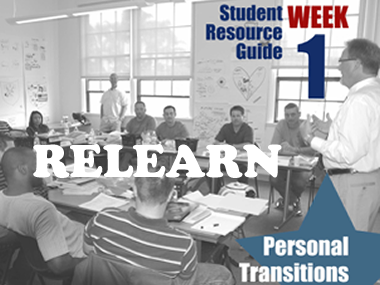 Week I – Military-to-Civilian Personal Transition.
Developed by The Pacific Institute®, week one Addresses the Transition Domains of personal effectiveness and wellbeing.
Spanning 13 multi-media modules, and utilizing video and audio sessions, written materials, exercises, practice interviews and self-assessment tools to help participants understand how their mind works for-and-against them, this segment provides attendees with the tools to help them manage positive and negative thoughts, unlock their potential and achieve any goal they set.
The military culture, as many veterans have lived and worked within, is a subculture of mainstream America. Veterans have lived and worked on military bases and installations, ships, submarines, and in tents; they ate meals ready to eat (MREs); and most have moved a lot (some move every year for 20 years). The civilian world has a different language and a different culture that a veteran must re-learn to navigate, in order to have a successful transition. As a result of this cultural difference, veterans have difficulty in obtaining and maintaining employment. NVTSI developed "REBOOT Workshops™" to help veterans in making this cultural shift.
REBOOT Workshops™ are designed to assist members of the military in making the social and career transition from years of service by addressing their fears and "re-booting" their skills. The workshop features three weeks of education designed to enhance and build upon their training, experience and skills to prepare them for life after the military. To accomplish this goal we combined the universal principals of cognitive science from two of the best authorities in the country, The Pacific Institute® and Operation Legacy.
Research suggests that environmental education brings a slew of benefits to students. A few key findings include:
Studying EE Creates Enthusiastic Students, Innovative Teacher-Leaders – EE offers opportunities for rich, hands-on, real world and relevant learning across the curriculum (Archie, 2003).
EE Helps Build Critical Thinking, and Relationship Skills – Environment-based education emphasizes specific critical thinking skills central to "good science"—questioning, investigating, forming hypotheses, interpreting data, analyzing, developing conclusions, and solving problems (Archie, 2003).
EE Instructional Strategies Help Foster Leadership Qualities – Environmental education emphasizes cooperative learning (i.e., working in teams or with partners), critical thinking and discussion, hands-on activities, and a focus on action strategies with real-world applications (NAAEE & NEETF, 2001).
Self Control/Self Discipline Benefits for Children with ADD – Taylor and her colleagues found that children with attention-deficit disorder (ADD) benefited from more exposure to nature –the greener a child's everyday environment, the more manageable are the symptoms of ADD (Taylor, 2001).
Increased Focus/Improved Cognition – Wells observed that proximity to nature, access to views of nature, and daily exposure to natural settings increases the ability of children to focus and improves cognitive abilities. (Wells, 2000).
Health Benefits – At the school environment level Bell and Dyment observed that children who experience school grounds or play areas with diverse natural settings are more physically active, more aware of good nutrition, more creative, and more civil to one another. (Bell, 2006).
Course Features
Lectures

33

Quizzes

0

Duration

50 hours

Skill level

All levels

Language

English

Students

1

Assessments

Yes
Welcome/Introduction/Fears/Challenges/Strengths

Unit 2 - Expand the Mind to Create the Future

Unit 3 - How the Mind Works

Unit 4 - Belief's Regulate Performance

Unit 5 - The Internal Conversation (Self-Talk)

Unit 6 - Comfort Zones

Unit 7 - The Next Time

Unit 8 - Out of Order - Into Order

Unit 9 - Seeing Myself Into the Future

Unit 10 - Living in Today, Planning for Tomorrow

Unit 11 - Tools for Change

Unit 12 - It's My Choice

Unit 13 - Yes, I'm Good

Unit 14 - Goal SettingThrough

Unit 15 - Successful and Significant