REBOOT Workshop – WK II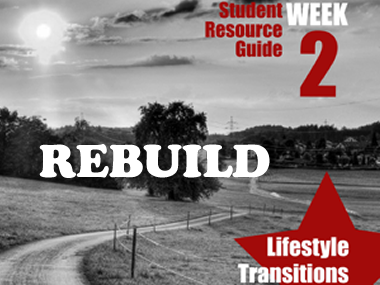 This course is designed to engage you in the most important journey of your life—planning and executing the path that will result in your legacy. Your legacy is what you will leave to your family, loved ones, the community, and the world based on how you lived your life.
You must be actively engaged in all aspects of your life. Therefore, this book is also a workbook. It is a workbook designed for you to immerse yourself in creating a powerful personal life plan. It is designed to give you maximum awareness and control of your future. You will get out of it what you put into it, so get involved and enjoy your journey. No one else can live your life but you. This now becomes your primary mission.
Go through the exercises in this book, and we promise that you can radically change your life when the knowledge is applied. It is time-tested and proven. Note taking is an important part of putting your plan together, and that is accomplished through journaling on every other page in this book. Journaling are the notes of the architect, and you are the architect of your future.
After having served your country and trying to adjust back into civilian life, you might be saying, "Now what?" Many people find themselves in the "grind of life," not thinking of their purpose.
What do I mean by the grind of life? I mean that many people are bored and living lives of quiet desperation. Many are hopelessly waiting for their ship to come into dock, yet they have not sent their ship out to sea. They have no passion in life and seem hopeless and helpless.
Many are like robots, simply going through the motions, yet are not fulfilled in life. There seems to be a very big void in their life, and they do not know how to fill that void. This book will fill that void by giving you the knowledge, tools, and skills you need to start your journey on a life of purpose, passion, meaning, and happiness!
Course Features
Lectures

3

Quizzes

0

Duration

50 hours

Skill level

All levels

Language

English

Students

2

Assessments

Yes
Introduction

The Operation Legacy approach to learning is very different from the traditional military training model. Traditional training typically involves highly structured information delivery, usually in lecture format. Students typically read or listen to the material, take notes, ask questions, maybe have some discussion, and are expected to retain the information for testing. There may be a multiple choice, true/false, fill in the blank or demonstrated manual or technical skill testing. This may work well for short term information retention, technical tasks, or repetitive procedures.

UNIT 1: FINDING YOUR PURPOSE IN LIFE

Many of us go through life without passion, purpose, or a plan. We drift through life without ever taking a moment to look at the life that we are living and we accept what life has dealt us with absolute resignation. By taking a deep and meaningful look at ourselves we can overcome the monotony of life, we can uncover our passions and dreams, and give meaning to our lives. Self- analysis is key when mapping out a plan to live our dream life and in executing that plan so that we may make our dreams a reality.

UNIT 2: YOUR MISSION—BRIDGING THE GAP FROM MILITARY TO CIVILIAN LIFE (STEP 1)

We thank our military men and women for their service and dedication to our country. America is the richest country for freedom in the world. Our military warriors have immersed themselves fully into the military culture, where they received training, skills, knowledge, and attitudes to achieve their mission to defend our freedoms. Failure was not an option. This environment created the best military in the world and supported our men and women in their service. We speak with former military service, to you the reader. We know what your journey has been, and we are here to help you identify your future as a civilian.

UNIT 3: WHO YOU ARE TODAY— YOUR STARTING POINT (STEP 2)

All of your experiences have made you who you are today—the good, the bad, and the ugly. Today is the baseline for the rest of your life. You have interests, hobbies, skills, talents, and activities, and you belong to groups, teams or organizations. This is your starting point. Everyone is uniquely made, and there is no one else exactly like you in the world. Human beings are very complex and have unlimited potential for achieving almost anything they set out to accomplish, and no one is perfect. People are also very resilient, adaptive, and creative. Gathering a snapshot of your life today enables you to view your whole self. It reflects your values and lets you know what you have become based on where you have been spending your time, what you have been doing, and what you consider important. It will also enable you to begin the journey of planning a happy life of purpose and meaning. Every day is a new day. Get started today!

UNIT 4: WHO DO YOU WANT TO BE IN THE FUTURE? (STEP 3)

Step 3 is all about your future. What are your passions? What is your vision? Which talents, abilities, and skills will help shape your future? How does your personality type drive the life you lead? Through introspection and visualization, you will discover who you are and how you want your life to be. At the conclusion of this unit you will identify your life purpose and develop a mission statement that will help you live your life with meaning.

UNIT 5: USING YOUR TOOLS AND RESOURCES (STEP 4)

Now it is time to investigate how to make the best use of the tools and resources available to you. Step 4 starts with a look at your attitude and methods for filtering external negative forces and controlling your thoughts in a positive way. Next we will discuss techniques for networking, managing time, overcoming stress, and solving problems. We will end the unit by considering your educational opportunities, financial management, and your total health.

UNIT 6: MAKING IT HAPPEN— PUTTING IT ALL TOGETHER (STEP 5)

This final section of your life planning workbook and student guide is where the rubber meets the road. Just like in military boot camp, you are being tasked with preparing for your new mission in Civilian Life! Action will be your key! This is critical to understand. This last fifth step completes your initial preparation and sets a foundation to your new life plan as a productive civilian.

APPENDIX

Resources These types of resources may be available in your local community, and through your regional VA Administration Office. 1. Military Transition Centers for job hunting, resumes, etc. 2. Employment Development Department 3. Career Transition Centers 4. Job Banks 5. Job Counselors 6. Resume Writing 7. Support Groups 8. Behavioral Counseling 9. Houses of Worship 10. Faith-Based Ministries for help